Chronic pain is a big problem in the United States. According to data from the National Institutes of Health (NIH), approximately 50 million Americans suffer from it. Approximately 20 million of them have chronic pain that is severe enough to limit life or work activities. Between 28 percent and 61 percent of people develop it after experiencing acute pain from certain types of injuries or surgery. While chronic pain manifests in myriad forms, from backaches to migraines, it shares a common thread: the disruption of normalcy and the imposition of limitations on one's quality of life.
Maintaining quality nerve health plays a pivotal role in fighting chronic pain. Nerves serve as conduits for communication, transmitting signals that dictate every physiological function. The interactions of nerve cells orchestrate the sensations we perceive, the movements we execute, and the vitality we embody. The fragility of this intricate system becomes evident when chronic pain manifests, imposing itself as an unwelcome companion in the lives of millions.
To address this, placing a greater emphasis on the role of vitamin B12 in nerve health has become a compelling solution. This essential nutrient, often recognized for its involvement in energy metabolism, also has a multifaceted capacity to foster nerve health. We'll take a deeper look at what vitamin B12 is and how it protects the nervous system.
You May Also Like:
The Truth About Vitamin B12 For Energy
Best Vitamin D3 and K2 Supplements on the Market: 5 Top Brands Reviewed
Defeat Chronic Pain With This Cutting-Edge Nerve Health Breakthrough is an original (Health11News) article.
What is vitamin B12?
Vitamin B12, also known as cobalamin, is a water-soluble nutrient that plays a pivotal role in the proper functioning of the human body. It is an essential component of a healthy diet, as the body cannot produce it on its own. Vitamin B12 is primarily involved in the metabolism of cells, including the synthesis of DNA, the genetic material present in all cells.
It is found naturally in animal-based foods, particularly abundant in sources such as meat (especially liver), poultry, fish, eggs, and dairy products. Its presence in these foods highlights its significance for individuals who follow vegetarian or vegan diets, as they might face challenges in obtaining adequate amounts from plant-based sources alone.
The role of vitamin B12 in the body extends beyond its involvement in DNA synthesis. It holds a crucial position in the maintenance of nerve health, the process of red blood cell formation, as well as contributing to overall energy production, playing a vital role in sustaining bodily functions.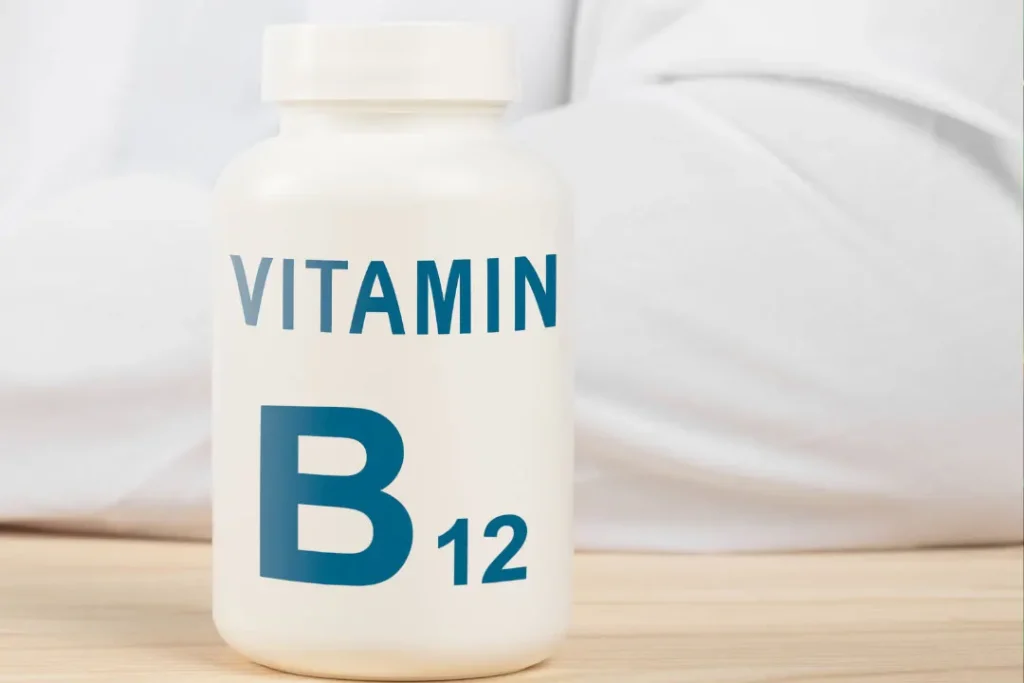 Vitamin B12 and myelin synthesis
Myelin, an intricate and essential part of the nervous system, functions as a protective covering around nerve fibers, akin to insulation around electrical wires. Comprising a blend of proteins and fats, myelin safeguards and enhances nerve signal transmission, ensuring efficient communication between different regions of the body. This insulation prevents the signal from degrading as it travels along the nerve, leading to swift and accurate responses to stimuli.
The significance of myelin in nerve health cannot be overstated. It serves as a crucial facilitator of rapid nerve impulse transmission, enabling smooth coordination of bodily functions. Disorders affecting myelin, like multiple sclerosis, can lead to disrupted communication between nerve cells, resulting in various neurological symptoms.
Vitamin B12 plays an integral role in myelin synthesis. Its involvement lies in the production of fatty acids and lipids necessary for the construction of myelin. These components are essential for maintaining the structural integrity of the myelin sheath, and they depend on adequate levels of vitamin B12. The absence of vitamin B12 can hinder the proper production and maintenance of myelin, potentially leading to compromised nerve signal transmission and impacting overall nerve health.
Vitamin B12 and methylation
Methylation, a fundamental biochemical process, plays a critical role in various physiological functions within the human body. It involves the transfer of a methyl group (CH3) from one molecule to another, often affecting DNA, proteins, and other molecules. Methylation serves as an epigenetic mechanism that regulates gene expression, influencing how genes are turned on or off without altering the underlying DNA sequence.
Methylation is also pivotal for nerve health. Proper methylation is essential for maintaining the health and functionality of nerve cells. It influences processes such as DNA repair, neurotransmitter production, and the regulation of neural pathways. Dysregulation of methylation has been implicated in neurological disorders and conditions affecting nerve function.
Vitamin B12's involvement in methylation is of paramount importance. As a coenzyme in various biochemical reactions, vitamin B12 facilitates the conversion of homocysteine, an amino acid, into methionine. Methionine is a key building block for DNA, proteins, and neurotransmitters. Adequate levels of vitamin B12 are necessary to ensure efficient methylation processes, which, in turn, contribute to the maintenance of optimal nerve health. The absence of sufficient vitamin B12 can disrupt methylation reactions, potentially leading to imbalances that affect nerve function and overall neurological well-being.
Vitamin B12 and the regeneration and repair of nerve cells
Vitamin B12's significance extends beyond its role in methylation and myelin synthesis. It plays a crucial part in nerve regeneration and repair. When nerve tissue is damaged due to injury or various medical conditions, the process of regeneration becomes paramount for restoring normal function.
Vitamin B12 contributes to nerve regeneration by aiding in the synthesis of nucleic acids and proteins, which are the fundamental building blocks necessary for cell growth and tissue repair. These components are integral to the regeneration of damaged nerve cells and the restoration of their functional capabilities. Vitamin B12's involvement ensures that the necessary resources are available for the body to initiate and sustain the complex process of nerve tissue repair.
Supplementing with vitamin B12 for nerve health
To achieve optimal results when supplementing with vitamin B12, it is best to combine it with other ingredients to increase its effectiveness. Mind & Body Omega-3 by Kori Krill Oil is one of the better options on the market. This innovative formulation is lauded for its rich omega-3 fatty acid content, sourced sustainably from krill oil. The product is designed to harness the potency of vitamin B12 alongside the benefits of omega-3, aiming to not only support nerve health but also enhance cognitive function, support cardiovascular health, and provide a holistic approach to well-being.
Mind & Body Omega-3 is also made from certified sustainable non-GMO ingredients and contains no synthetic colors or artificial flavors. It is third-party tested, which ensures that the supplement not only works but works effectively.
A comprehensive approach to nerve health
Cultivating and sustaining optimal nerve health is a multifaceted endeavor, and a holistic approach is best to achieve optimal results.
One aspect of an effective nerve health plan is to pay attention to nutrition. In addition to supplementation, you can incorporate vitamin B12-rich food sources such as fish, meat, eggs, and dairy. This will not only enhance nerve function but also form the cornerstone of a nourishing diet.
Another strategy is to pair vitamin B12 with other nutrients to increase its effectiveness. There is a host of other vitamins, minerals, antioxidants, and essential fatty acids that contribute to the well-being of our nervous system. While vitamin B12 commands a pivotal role, other nutrients like vitamin B6, vitamin D, omega-3 fatty acids, and antioxidants like vitamin C and E collaborate in nurturing nerve function and fortifying its resilience.
Beyond nutrition, lifestyle choices play an important role in maintaining nerve health. Engaging in regular physical activity, embracing stress-reduction techniques such as meditation and yoga, ensuring adequate sleep, and avoiding the detrimental influences of smoking and excessive alcohol consumption collectively create an environment conducive to fostering nerve health.
Navigating the sea of information and choices that surround nerve health demands an informed perspective. Consulting with healthcare professionals, nutritionists, and experts in the field ensures that individualized approaches are tailored to unique needs and circumstances. Informed choices empower individuals to become advocates for their nerve health, fostering a sense of empowerment and ownership over their well-being journey. With a wealth of information and strategies, you don't need to be nervous about how to achieve optimal nerve health.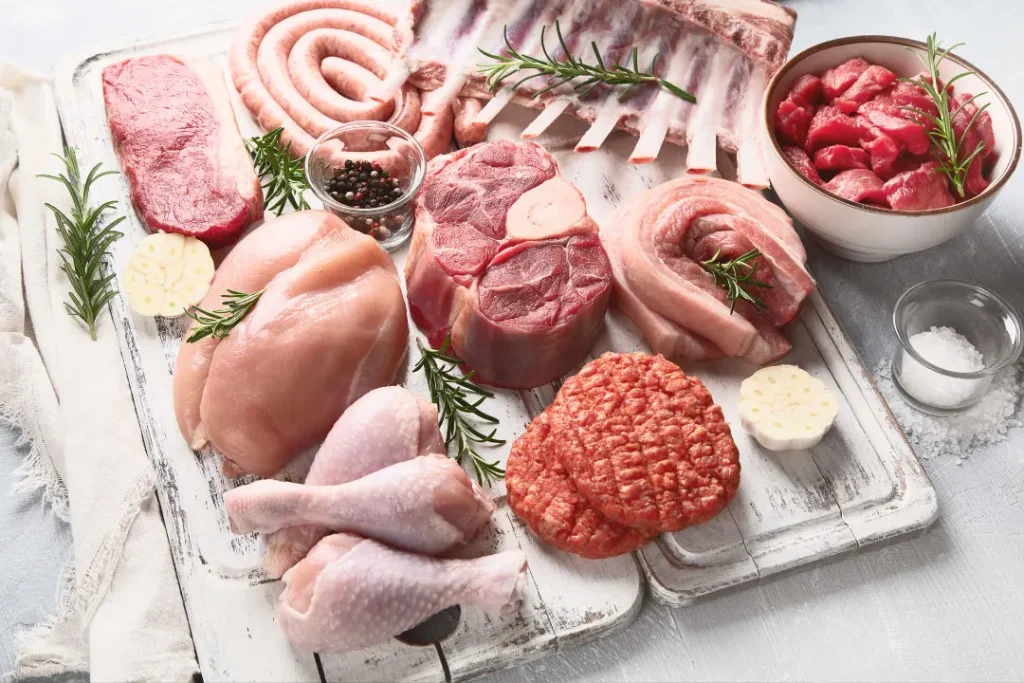 Further Reading:
National Institutes of Health: Acute to Chronic Pain Signatures Program
National Library of Medicine: Prevalence of chronic pain among adults in the United States
USA Today: What is vitamin B12 good for? Energy, health benefits explained
Technology Networks: Vitamin B12 Deficiency Associated With Depression Risk in Longitudinal Study
Real Simple: You Need Vitamin B and These 12 Foods Have It
Important Note: The information contained in this article is for general informational purposes only, and should not be construed as health or medical advice, nor is it intended to diagnose, prevent, treat, or cure any disease or health condition. Before embarking on any diet, fitness regimen, or program of nutritional supplementation, it is advisable to consult your healthcare professional in order to determine its safety and probable efficacy in terms of your individual state of health.
Regarding Nutritional Supplements Or Other Non-Prescription Health Products: If any nutritional supplements or other non-prescription health products are mentioned in the foregoing article, any claims or statements made about them have not been evaluated by the U.S. Food and Drug Administration, and such nutritional supplements or other health products are not intended to diagnose, treat, cure, or prevent any disease.