Mushroom supplements have been touted for the wide array of benefits they afford. More recently, however, mycologists have been demystifying some of the myriad benefits they might have for your memory. Read on to learn how mushrooms can enhance mental function.
Have you ever wondered what consuming mushrooms can do for your brain health? Let's dive into the fascinating world of mushroom supplements to see what these powerful fungi can do for you. These incredible natural wonders have been used for centuries in various cultures for their medicinal properties and nutritional value. Today, mushroom supplements are gaining even more popularity as people discover their numerous potential benefits.
For thousands of years, mushrooms have been integral to traditional medicine systems like Traditional Chinese Medicine (TCM) and Ayurveda. The word Ayurveda comes from the ancient Sanskrit language, combining "ayur," meaning life, and "veda," meaning science or knowledge.
Ayurveda is a natural medicine system that originated over 3,000 years ago in India. These cultures recognize the value of various mushroom species in supporting overall health and well-being. For example, during the time of Hippocrates, around 450 BCE, the amadou mushroom (Fomes fomentarius) was recognized as an effective remedy for inflammation and disinfecting wounds. Modern science is catching up with this ancient wisdom, and research on mushroom supplements is flourishing.
One of the primary reasons for rising interest in mushroom supplements is their impressive array of potential benefits. Mushrooms are packed with amazing bioactive compounds like beta-glucans, antioxidants, polysaccharides, and other nutrients. These goodies can do wonders for your body. They may support your immune system, boost your cognitive function, help with digestion, and help maintain vitality.
Some mushrooms are even thought to be adaptogens, meaning they help your body handle stress. So, adding mushrooms to your diet can bring many health benefits. An essential aspect to consider is that most newly harvested mushrooms are deemed suitable for consumption. Numerous scholarly articles have addressed this matter. Equally significant is the historical observation that mushrooms have constituted an integral component of human dietary practice for centuries.
The mushroom supplement industry is experiencing significant growth, driven by increasing consumer awareness and a desire for natural, holistic health solutions. With this growth comes increased scrutiny and research into the safety and efficacy of these supplements. Scientists and health professionals are studying how mushroom supplements interact with the body and how they can be used most effectively.
You May Also Like:
Should You Try Supplements to Reduce Blood Pressure? Here are the Facts
Kori Krill Oil is the Consumer Choice For Omega-3 Supplements and Specialty Products
Mycology for Your Memory: Can Mushrooms Improve Mental Function? is an original (Health11News) article.
What about my cognitive health?
Some mushroom advocates firmly believe in the mushroom's ability to boost mental function, recall, cognition, and focus. While a few studies support these claims, it's crucial to remember that scientific evidence is still limited and inconclusive. With this in mind, here are some mushrooms thought to offer potential cognitive benefits:
Lion's Mane Mushroom (Hericium erinaceus):
Lion's Mane is a popular medicinal mushroom with white, shaggy spines resembling a lion's mane. Throughout Asian cultures, it has historically been employed due to its perceived cognitive advantages. Studies suggest Lion's Mane may support nerve growth factor (NGF) production. NGF plays a crucial role in the growth, maintenance, and survival of nerve cells in your brain, potentially promoting brain health and cognitive function.
Reishi Mushroom (Ganoderma lucidum):
Reishi is highly regarded in traditional Chinese medicine and is known as the "Mushroom of Immortality." It is believed to have various health benefits, including potential cognitive enhancement. Reishi contains bioactive compounds like triterpenes, polysaccharides, and antioxidants that may have neuroprotective effects and support brain health.
Cordyceps Mushroom (Cordyceps sinensis):
In the wild, Cordyceps is parasitic and develops on caterpillars. The cultivated form, Cordyceps sinensis, is more commonly used for medicinal properties. It has been traditionally used to improve energy, endurance, and focus. Some studies suggest that Cordyceps may enhance cells' mitochondrial function and oxygen utilization, potentially contributing to improved cognitive performance.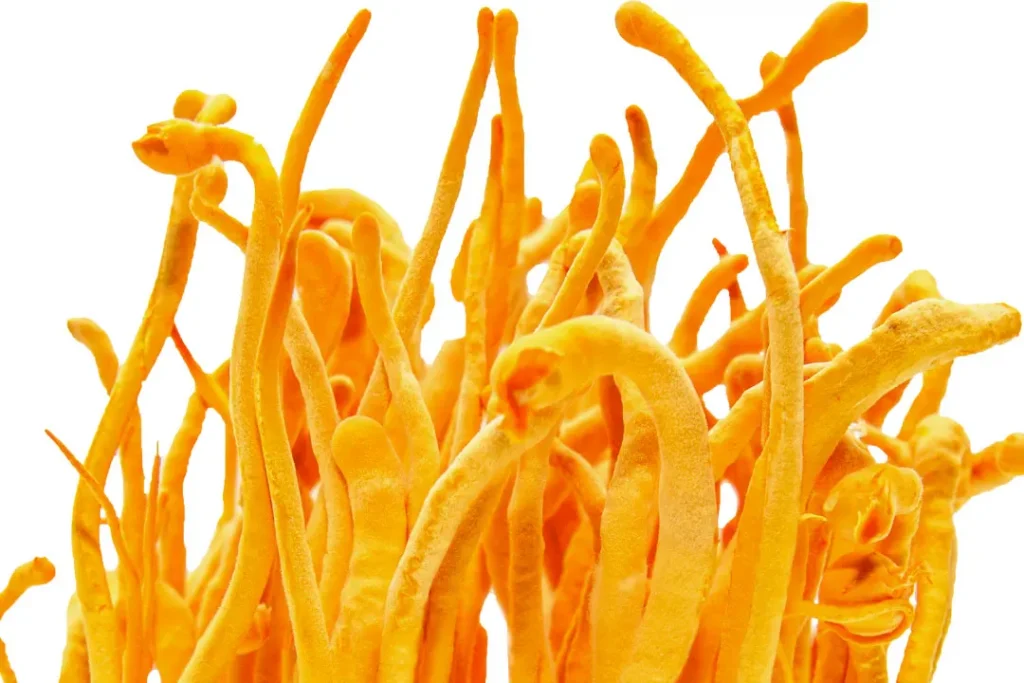 Chaga Mushroom (Inonotus obliquus):
Chaga. is a woody mushroom that typically grows on birch trees in cold regions. It has been used in folk medicine for various health benefits, including cognitive enhancement. Chaga is rich in antioxidants, including melanin, which may help protect the brain from oxidative stress and inflammation.
Shiitake mushrooms (Lentinula edodes):
Shiitake (Lentinula edodes) is one of the most widely cultivated and consumed mushrooms globally. Shiitake mushrooms are like a little treasure trove of essential nutrients. They're packed with B-vitamins (think B2, B5, and B6), minerals like copper, selenium, zinc, and even dietary fiber. Consuming a diet rich in fats could lead to cognitive deficits.
Shiitake mushrooms have been found to mitigate such effects. These mushrooms are also loaded with beta-glucans, which have the unique ability to modulate your immune response. Plus, shiitake mushrooms have other fantastic compounds like polysaccharides, terpenoids, and phenols that can work wonders in fighting inflammation.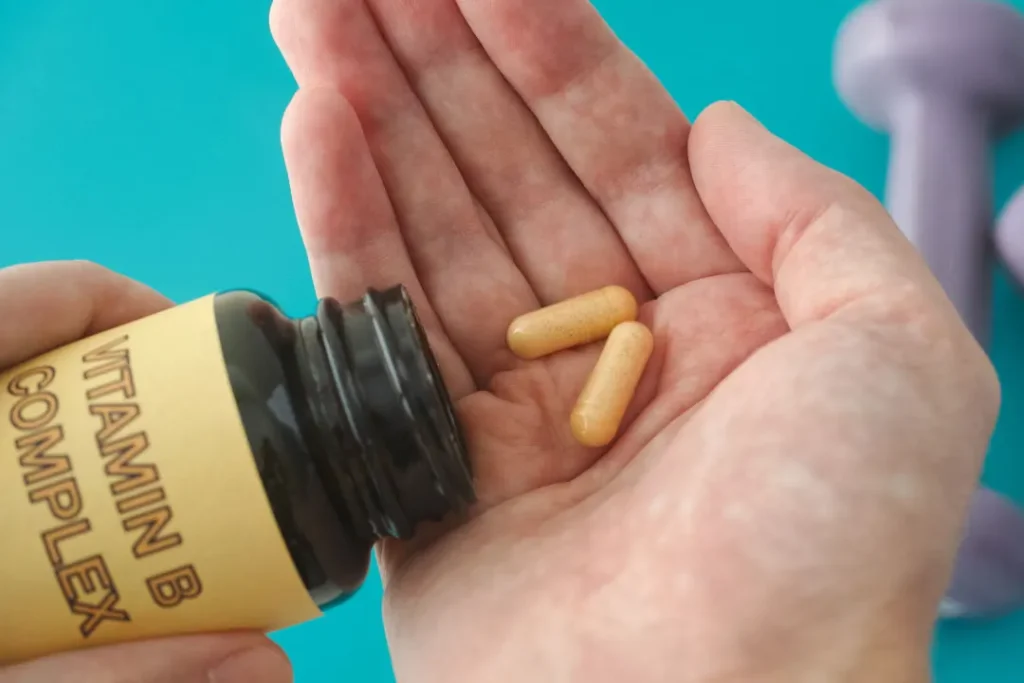 So where do I buy these mycological miracles?
An effective memory-boosting mushroom supplement should harness the benefits of numerous health-enhancing mushrooms to elevate cognitive abilities. Healthy Truth's Organic Go Shrooms Essential Blend is a prime example of such a supplement. This manufacturer stands out from the rest and deserves special consideration. Healthy Truth has been around since 2014. The company's founder and current Chief Creative Officer, Bruce Namenson, fervently supports clean eating and exercise.
This mushroom blended product is no exception, containing all the mushrooms considered essential to excellent brain health while also being certified organic. Interestingly, a Google search for approved suppliers of the five (5) critical mushrooms revealed only one that carried a similar product. However, that product was recommended in doses that were far lower than the dose recommended by Healthy Truth. In addition, the competing product did not contain all the other nutrients in Organic Go Shrooms Essential Blend.
Interestingly, Matthew Kenney, a world-renowned plant-based chef, purchases his products from Healthy Truth. In addition, Healthy Truth products are consumed by no less than twenty professional teams and professional athletes, including Tom Brady.
As eating mushrooms gains momentum, Healthy Truth earns recognition in reputable media outlets, solidifying its position as a trusted provider of premium mushroom products. This company has been featured in Yahoo Finance, News7health, and HealthXwire.com, among others.
Happy shrooming!
The world of mushroom supplements is captivating and rich in history. Mushrooms, renowned for their medicinal properties and nutritional value, have been cherished in diverse cultures for centuries. In today's era, the popularity of mushroom supplements is surging as people unearth their potential advantages.
The growing interest in mushroom supplements stems from their remarkable potential benefits. Mushrooms are enriched with bioactive compounds like beta-glucans, antioxidants, and polysaccharides, which can bolster the immune system, enhance cognitive function, aid digestion, and promote vitality. Some mushrooms even act as adaptogens, assisting the body in managing stress.
The mushroom supplement industry is burgeoning due to heightened awareness of holistic health solutions. With this growth comes increased scientific scrutiny and exploration of the safety and effectiveness of these supplements. Researchers are delving into how mushroom supplements interact with the body and their optimal utilization.
The relationship between medicinal mushrooms and our well-being underscores the profound impact of these remarkable fungi on human health and the overall quality of life. The rich history of their utilization across cultures and a growing body of scientific research highlights their potential to enhance our physical and mental wellness.
From bolstering the immune system to combating inflammation and even contributing to potential treatments for certain ailments, medicinal mushrooms offer a promising avenue for promoting vitality and longevity. Embracing the symbiotic relationship between these natural wonders and our quest for optimal health paves the way for a harmonious and holistic approach to well-being, reinforcing that nature's bounty can be a potent ally in our journey towards a fulfilled and vibrant existence.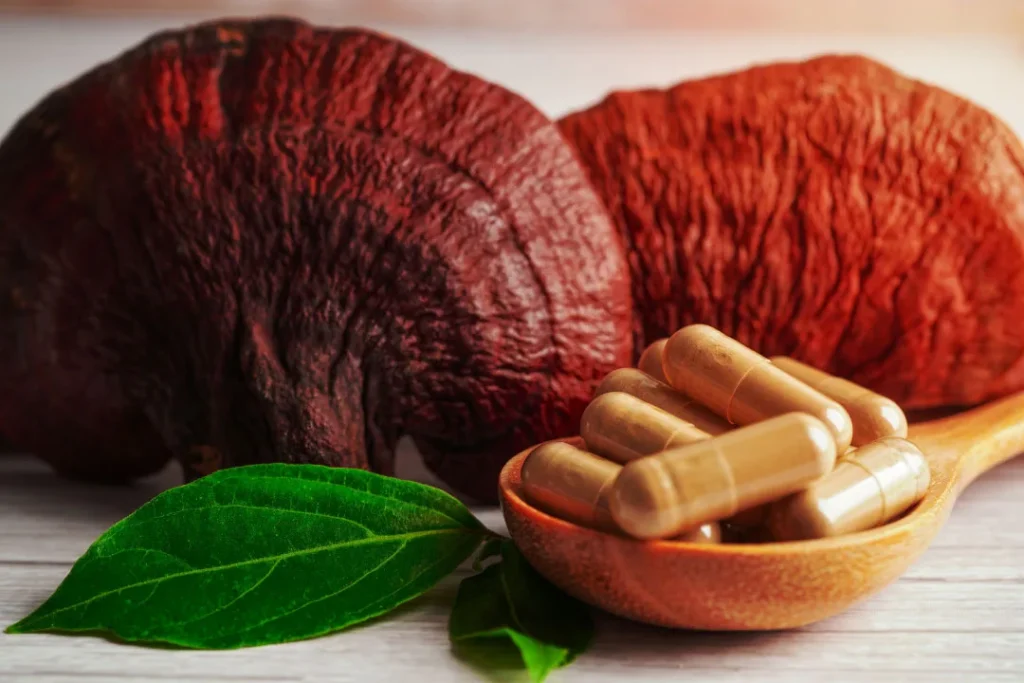 Further reading:
Harvard T.H. Chan School of Public Health: Mushrooms
International Journal of Microbiology: Edible Mushrooms: Improving Human Health and Promoting Quality Life
PBS.org: The History Kitchen
Important Note: The information contained in this article is for general informational purposes only, and should not be construed as health or medical advice, nor is it intended to diagnose, prevent, treat, or cure any disease or health condition. Before embarking on any diet, fitness regimen, or program of nutritional supplementation, it is advisable to consult your healthcare professional in order to determine its safety and probable efficacy in terms of your individual state of health.
Regarding Nutritional Supplements Or Other Non-Prescription Health Products: If any nutritional supplements or other non-prescription health products are mentioned in the foregoing article, any claims or statements made about them have not been evaluated by the U.S. Food and Drug Administration, and such nutritional supplements or other health products are not intended to diagnose, treat, cure, or prevent any disease.